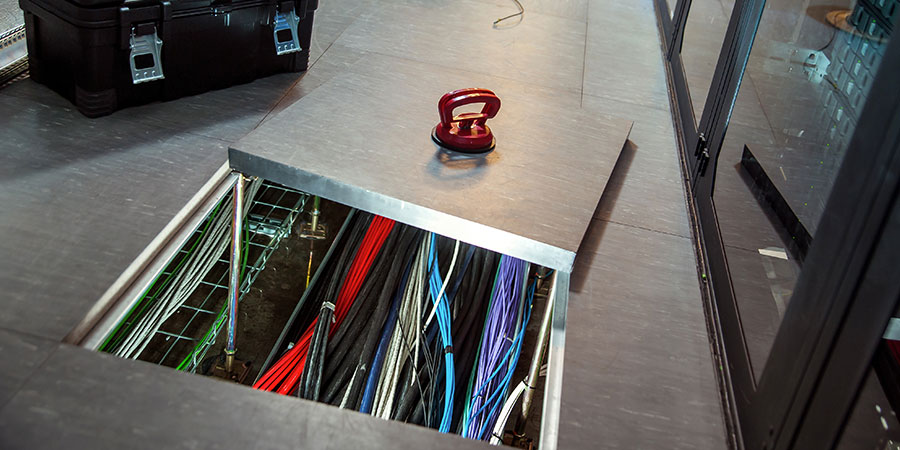 How to Install a Cable Pass-Through Split Grommet in a Raised Floor
When it comes to designing a data center, proper cable organization is crucially important. One solution to aisle containment is installing a cable pass-through split grommet in a raised floor. This article will take you through each step of the process of how to set up this important component that not only enhances your cable management but also optimizes airflow in your data center. 
How Does Cable Management Influence Data Center Design?
Here are a few reasons why cable management can influence design of a data center:
Minimizes Downtime and Limits Service Disruptions
Everyone has had a knot in their hair at some point. Now just imagine that, only with cables. Instead of a hurting head, you'll have disconnections, damage, and downtime that can cost your business money.  
Improves Airflow and Cooling Efficiency
Like tangled cords, overheating can also cause damage to equipment, so cable management can optimize airflow and reduce hotspots. 
Advances Troubleshooting and Maintenance
Well-labeled cables streamline attention to issues so you're not left wondering what each cord is doing and you can identify the problem. 
It Helps with Scalability and Flexibility
While keeping your cables organized can help with diffusing testy situations, proper cable management can also help with adding new equipment into the existing infrastructure, making for easier assimilation so that the data center can adapt faster to the changes. 
Aids with Compliance and Safety
A safer environment avoids costly penalties while also demonstrating the center's commitment to providing a secure, dependable space. 
It Protects Cables and Supports Durability
The last thing you want is to go through the cumbersome task of replacing a cable, which is why cable management is important. Cable trays, racks, and ties reduce wear and tear and prolong the life of your cables. 
Installation Materials Required:
Ready to install? First, you need a few things:
Cable pass-through split grommet kit

Measuring tape

Utility knife

Hole saw or keyhole saw

Screwdriver

Sealant (optional, for enhanced water and air sealing)
Step 1: Scan the Area and Figure Out Placement
Before you start the installation process, take a pause and look at the layout of the raised floor. What are the optimal locations for the cable pass-through split grommets? Some factors to consider include cable density, the best routing paths, and how to be best efficient with the equipment. Make sure you mark the areas where you want to install the grommets. 
Step 2: Ready the Raised Floor
Make sure the raised floor tiles are clear and free of chaff. If you have to, remove the tiles from the locations you marked to have enough space for the grommets. Then, delicately lift the tiles, careful not to harm the cables beneath them. 
Step 3: Create the Opening
Grab your measuring tape and use it to calculate the appropriate diameter for the grommet hole. Then, using a hole saw or keyhole saw, discreetly cut the marked openings you made in the raised floor tiles. Be precise and don't rush it, to make sure your cuts are the proper fit for the grommets. 
Step 4: Assemble the Split Grommet
The cable pass-through split grommet usually contains bisections, two that fit around the cables. Next, you'll open the kit and divide the sections. Then, you'll lay the cables out that you're going to pass through the grommet to figure out how much space you need.  
Step 5: Fit the Grommet
Push the cables through one part of the split grommet before you take the other part and place it on top. This will sandwich the cables between the grommets. Make sure you have a secure fit and that the grommet sections properly line up with each other. 
Step 6: Secure the Grommet
With the split grommet arranged among the cables, place it in the hole you had cut in the raised floor. Push down slightly to make sure it sits even to the floor surface. If you have to, apply screws or adhesive strips (they're in the kit) to affix the grommet in place. 
Step 7: Optional – Spread a Sealant
Want an additional layer of protection against air and water seepage? Consider using a sealant on the grommet edges, where they meet the floor. Employ this step if you really want to enhance the containment and limit any possible harm to the cables and equipment.
In order to support aisle containment (the goal of every data center), proper cable management is key. We hope this primer on how to install a cable pass-through split grommets into a raised floor will help you protect your data center's cables with optimized airflow and streamlined organization. 
Contact DataCenterStore
For more facts and data on our product line, or to get a quick quote on grommets, control room furniture, or monitoring accessories, contact us today.
Contact Information:
1-866-430-5252
shop@datacenterstore.com